The Rise of Race Soldiers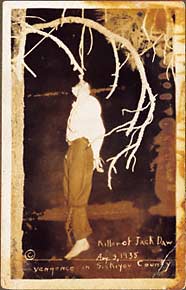 At the funeral of Dunsmuir, Oregon's Chief of Police, F. R. Daw, a number of mourners planned the lynching of his alleged murderer, Clyde Johnson. Early on the morning of August 3, 1935, the masked mob, estimated as large as fifty, forcibly removed Johnson from his jail cell and dragged him three miles south of town where they hung him from a pine tree. Local and state officials expressed mixed reaction to news of the lynching.

District Attorney James Davis declared that he would open an investigation and "do everything the law requires to apprehend members of the mob." On the other hand, the California Attorney General, referring to the recently delayed execution of an accused murderer, stated that the "uncontrollable unrest" was a natural result of the "apathy of the Supreme Court of the United States."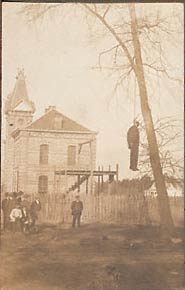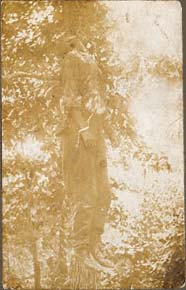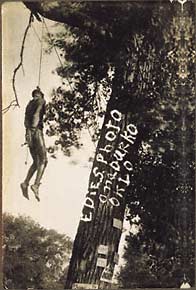 Bennie Simmons, or Dennis Simmons, accused of the murder of sixteen-year old Susie Church, was taken from prison guards in Anadarko, Oklahoma. His killers led him to a nearby bridge and hanged him from the limb of a cottonwood tree flourishing by a stream. "

The Negro prayed and shrieked in agony as the flames reached his flesh," reported a local newspaper, "but his cries were drowned out by yells and jeers of the mob." As Simmons began to lose consciousness the mob fired at the body, cutting it to pieces. " The mobsters made no attempt to conceal their identity," remarked the Enfaula Democrat, "but there were no prosecutions." Purchased in Oklahoma.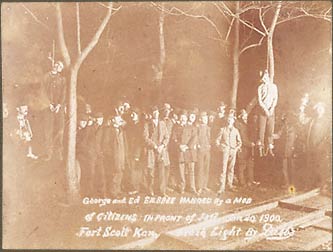 Sticker on reverse side of postcard:

J.V. DABBS PHOTOGRAPHER GROUND FLOOR STUDIO, Frames and Mouldings, 407 Market Street. FORT SCOTT, KANSAS.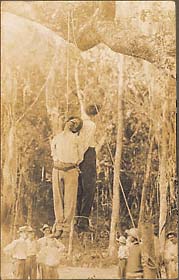 ampa had built a flourishing cigar manufacturing industry by providing liberal incentives to manufacturers. The unionizing of workers and the violence erupting from strikes threatened the town's economy. Two Italian immigrants were accused of union sympathy and of shooting J. F. Esterling, a bookkeeper for the West Tampa cigar factory. City fathers were alarmed that an "American" would be subjected to attack. While the "conspicuous" immigrants, neither one of which was recognized previously as strikers, were being taken to a safer jail in a horse-drawn hack, a mob separated them from a suspiciously modest guard consisting of one deputy sheriff and fireman. The mob fled in automobiles, a luxury afforded by only the elite in Tampa, which suggested that they were "men with boiled shirts, high collars, diamonds, and kid gloves."

The lynchers' note read: "Beware! Others take notice or go the same way. We know even more. We are watching you. If any more citizens are molested look out." The note was signed, "Justice." Warning notes posted at lynching sites were common forms of intimidation; in this case it was a clear threat to other strikebreakers. Threatening notes and letters, and now email messages are still used throughout the United States by moral regulators and right-wing groups such as the Klan. Mobs costumed their dead victims in mocking fashion, dressing them with hats and other objects; in this case a hat and pipe. In one incident the killers posed the corpse upright in a chair and glued on cotton sideburns and hair to recreate the stereotype of the "good old darky.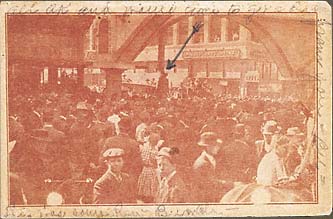 The Palace Drugstore dominated a prime commercial corner just under one of downtown Dallas's most prominent architectural landmarks, the soaring Elk's Arch. Together, they formed a makeshift amphitheater for the last act of the tragic comedy of March 3, 1910; the Palace's two story facade providing an urban backdrop with box office seats for Elk's Arch's dramatic shell. The first incongruous notes that sliced the routine lunchtime din, wafted through the open second-floor windows, drawing the curious and, undoubtedly, alarming a few. Within minutes, the elevated onlookers spotted, in the increasingly agitated streets down below, a man scaling the arch and securing a rope. Then, from off the sullied pavement and over the heads of thousands of riveted Dallasites, the mutilated corpse of a naked, elderly Negro ascended. Audible to some were the words of commendation a mob leader had for his fellow lynchers.

"You did the work of men today and your deeds will resound in every state, village, and hamlet where purity and innocence are cherished and bestiality and lechery condemned."

The H. J. Buvens family had esteemed Allen Brooks a trusted servant until Flora Daingerfield, a second servant, claimed to have discovered Brooks with their missing three-year old daughter in the barn. Dr. W. W. Brandau examined the child and concluded, rather vaguely, that there was "evidence of brutal treatment." A local newspaper described the alleged crime as "one of the most heinous since the days of Reconstruction." Immediately following Brooks arrest, a mob attempted, but failed, to kidnap him from authorities. But while his trial was underway, a second mob, of two hundred whites and one "conspicuous Negro," entered the courtroom and successfully overwhelmed a "defending force" of fifty armed deputies and twenty policemen.

No shots were fired. The defenseless Brooks was trapped on an upper floor. The mobsters tightened a noose around his neck and threw him down to the hungry pack twenty feet below. Dozens savagely attacked, kicking and crushing his face until he was covered in blood. The adherents of hanging overruled those with a taste for burning. The unholy pilgrimage from courthouse to arch began.

"Contact with the pavement and obstacles on it wore most of the clothes off the Negro before the arch was reached," noted the Dallas Morning News. "At one point his coat was torn off, at another his shoes were dragged from his feet, and finally his trousers yielded to the friction of the passage along the street." What remnants of clothing that clung to the corpse were soon stripped away by souvenir hunters.

Postmarked June 11, 1910, Dallas Texas.

close window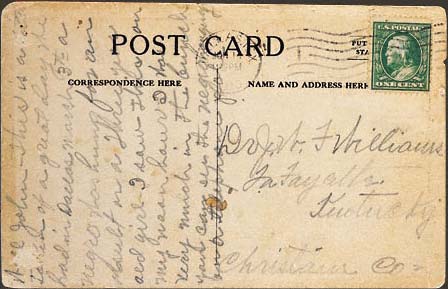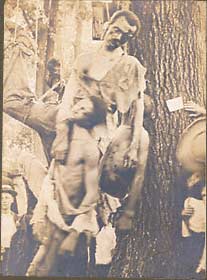 Blue stamp on reverse:

FROM KLUTTZ'S STUDIO E. Council St., near Court House, SALISBURY, N.C.

The mob numbered into the thousands that wrenched five black men from the civil authorities of Salisbury, North Carolina on the night of August 3, 1906. They accused the men of murdering members of a local family, named Lyerly. The New York Times reported that the victims were tortured with knives before being hanged and then riddled with bullets. The authorities in North Carolina, alarmed at what was one of the largest multiple lynchings of the 20th century, took unusual steps to punish the leaders of the mob.

After the Governor ordered the National Guard to restore order, local officials arrested more than two-dozen suspected leaders. One of the killers, George Hall, was convicted and sentenced to 15 years at a hard labor in the state penitentiary. The New York Times predicted that, by taking these measures, North Carolina's Governor Glenn was not improving his political prospects.
close window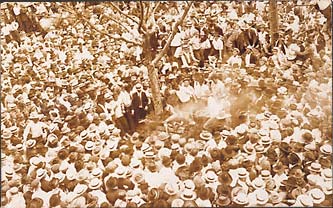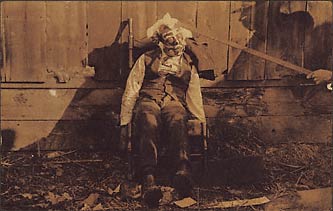 Blue stamp on reverse:

FROM KLUTTZ'S STUDIO E. Council St., near Court House, SALISBURY, N.C.

The mob numbered into the thousands that wrenched five black men from the civil authorities of Salisbury, North Carolina on the night of August 3, 1906. They accused the men of murdering members of a local family, named Lyerly. The New York Times reported that the victims were tortured with knives before being hanged and then riddled with bullets. The authorities in North Carolina, alarmed at what was one of the largest multiple lynchings of the 20th century, took unusual steps to punish the leaders of the mob.

After the Governor ordered the National Guard to restore order, local officials arrested more than two-dozen suspected leaders. One of the killers, George Hall, was convicted and sentenced to 15 years at a hard labor in the state penitentiary. The New York Times predicted that, by taking these measures, North Carolina's Governor Glenn was not improving his political prospects.
close window